Denmark's mobile safe-injection site and a case for more effective overdose prevention.
In 2015, more than 52,000 people died from overdosing in the United States — a staggering 27 percent of the world's total fatal overdoses. In 2016, that number went up to 63,600, and the rise is expected to have continued in 2017. In Europe, that number is considerably lower, but still alarming at approximately 7,929 deaths. Several organisations estimate that the actual numbers are likely much higher, as underreporting of drug-related deaths continues to be a problem. In contrast, no one has ever died in a safe injection facility.
Safe Injection Facilities (SIF) are supervised facilities providing users with sterile and safe surroundings for the injection of drugs, overviewed by medical staff. They are more and more common in European countries, and as recent trends in new and extremely potent drugs such as fentanyl reveal, more needed than ever. The general consensus is that the facilities are an effective way of combating fatal overdoses as well as getting more people into treatment. In the United States, though — where the need is especially high — they have yet to be introduced. But following recent demonstrations, the mayor of New York has proposed to open several Overdose Prevention Centers (as they have been dubbed there) in the city.
At the end of April and the beginning of May 2018, Copenhagen-based activist and ILLEGAL! founder Michael Lodberg Olsen and nurse Tina Leth Hansen of Antidote (a Danish organisation providing education on overdose prevention) hit the road in a mobile injection room. Their goal was to ask drug users in small towns around the Danish countryside if there was a need for something like their van in their city. As it turned out, there was lots of interest. In fact, people were standing in line.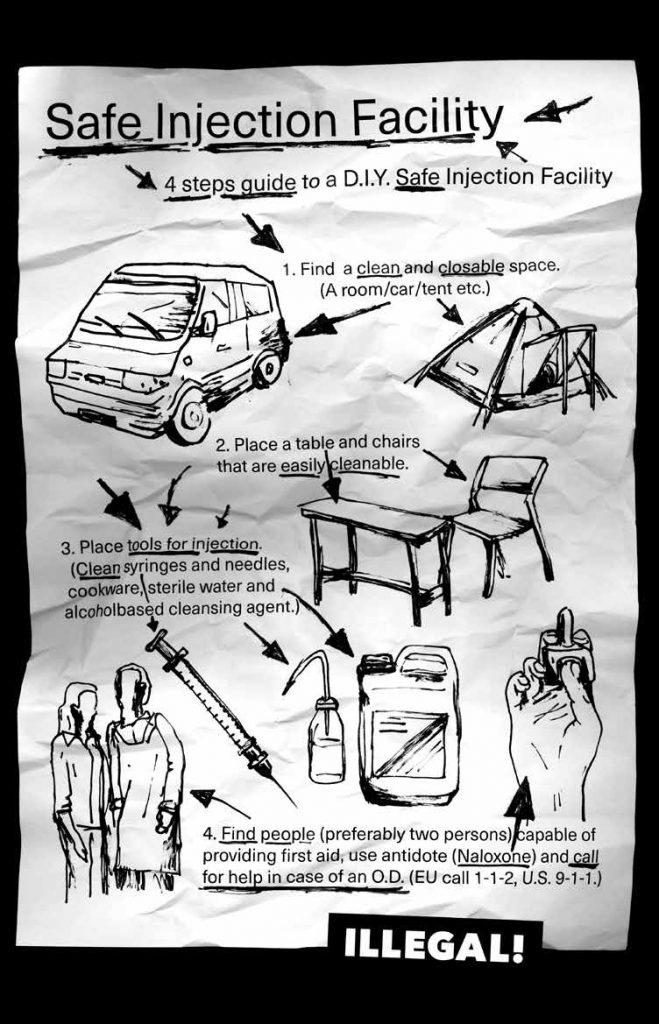 It didn't take much. An old truck, a few bucks to rearrange the inside, and voilà: a moving life-saver. The most important thing, of course, was knowing how to treat overdoses and willing to go out there and ask the real experts — the users — about their specific needs.
It was this sort of activism that brought injection rooms to Denmark in the first place, like in Vancouver or in Portugal. (Vancouver's first safe injection facility opened up in 2003, whereas Portugal just passed legislation to open their first one, following up on years of an effective decriminalisation policy around drug use.) In the U.S., on the other hand, people have been demanding change for years. It's only now that their words are finally being echoed by local politicians in San Francisco, Denver, Seattle, Philadelphia and New York. Activists on the ground lead the way, politicians follow suit.
Well, hopefully, anyway. In 2011, Danish lawyers effectively proved that injection facilities aren't illegal, according to Danish or international law. Up until that point, the supposed illegality of injection rooms had been a popular reference for justifying non-action. Turned out that there were no legal obstacles standing in the way, but rather political will (or lack thereof.)
The situation is more complex in the United States. According to American law, overdose prevention centers aren't clearly legal or illegal. The matter is complicated by the difference between state and federal law, and the extreme discretion authorities are provided with concerning drugs. This uncertainty makes it hard for cities to implement the best harm reduction strategies. Even though the will might be there locally and laws are passed on a state level, federal agents might still knock on the door of your local overdose prevention center. According to federal law, they could be interpreted as being illegal, even though a state is well within its rights to sanction it as a response to a health crisis. With these draconian drug laws still in full effect, it would be extremely risky to run an overdose prevention center openly without clear agreements that they wouldn't be interfered with.
It's in this vacuum between state and federal laws that the war on drugs still holds Americans hostage and stagnates effective overdose prevention measures.
The United States does have experience with harm reduction strategies seemingly defying the law — namely, needle exchange programs. Several states passed laws legalising them in the face of the HIV epidemic, to great effect. Similarly, the overdose antidote medicine Naloxone has become more widely available after laws were passed to remove it from the judicial limbo it had been stuck in. And as we speak, people on the ground are providing drug users with safe environments for drug consumption — a notable example being an underground overdose prevention center which has been operating for three years in an undisclosed location in the United States, saving lives, illegally.
As always, we can thank the civilians who dare lead the way at their own risk to spark the necessary changes in the political system. The changes that need to happen so we can fight this epidemic, hopefully sooner rather than later. All it takes is political will.