In Davao City, Duterte's popularity is massive, even after two decades of killings. Everywhere posters and stickers are cheering for Duterte, on private houses and private cars. "He's a gangster, but he's our gangster is the general attitude," says a former fan.
"Human rights make me want to puke," says the old leftist guy I have been buying books from in Manila for ages. "Oh, really? Why?" I ask, not as surprised as I wish I had been. The tone of his voice has changed.
Our soft spoken conversation about the work of retired political economist Edberto Villegas is definitely over, and he almost spits when he responds with a rant about the hypocritical "yellowtards" – a prerogative of the liberal opposition favoring the former administration of the Philippines, the Aquino dynasty – who never cared about human rights before.
The menace of society
Now that the new President Rodrigo 'Digong' Duterte is getting rid of the "menace of society", they are all getting hysterical. In early December, 2016, The New York Times ran a photoseries that showed 57 of the killings that are prompting this hysteria. The menace my fellow book lover refers to is drug users. Or, formally, drug lords and dealers. To my knowledge, though, only one drug lord has been killed so far: Espinosa, mayor of Albuera in central Philippines, who was killed by police officers in a prison cell, reportedly to prevent him from disclosing who among the police are on his payroll.
In comparison, around 2,000 people from primarily the urban poor areas have been killed by police in what is probably the bloodiest "war on drugs" in history. Another estimated 4,000 have been gunned down by vigilantes. The victims are, as local people phrase it, 'the ones wearing shorts and slippers'. The most commonly used drug in the Philippines is shabu, a form of methamphetamine also known as the poor man's cocaine.
No one killed the 4,000 / collateral damage
While the 2,000 official police killings are proudly portrayed as legitimate operations, no one wants to take responsibility for the other 4,000 killings. 'Collateral damage', some call it. The result of criminals using the war on drugs to cover up killings in their own interests, others say. An occurrence that has nothing to do with the war on drugs, they maintain.
The Philippine National Police (PNP) also deny that the vigilante killings are related; their own so-called "double barrel" strategy. Such a connection cannot be established without thorough investigation, PNP has stated, and makes no attempts to conduct such investigations. Probably because it has already been documented by journalists and social activists that some vigilantes are in fact off-duty policeman, making extra money.
What the old leftist guy in the book shop refuses to recognize, is that extra judicial killings – in the Philippines such a recurrent phenomenon that they are simply referred to as EJK – are no different today than under the Marcos administration he once fought.
If those in power allow a practice of shoot to kill instead of taking people to court, why then would they refrain from letting police and paramilitary kill anyone that is of inconvenience to them? Trade unionists. Social activists. Political rivals. Human rights lawyers. Life can so easily be rendered disposable.
Although, as Jeremy Simons of Katlingbanong Pagtambayong (the alliance of concerned) in Davao City – the home base of President Duterte – points out: It is probably because the killings primarily target drug users, that so many seem willing to accept it, or even encourage it.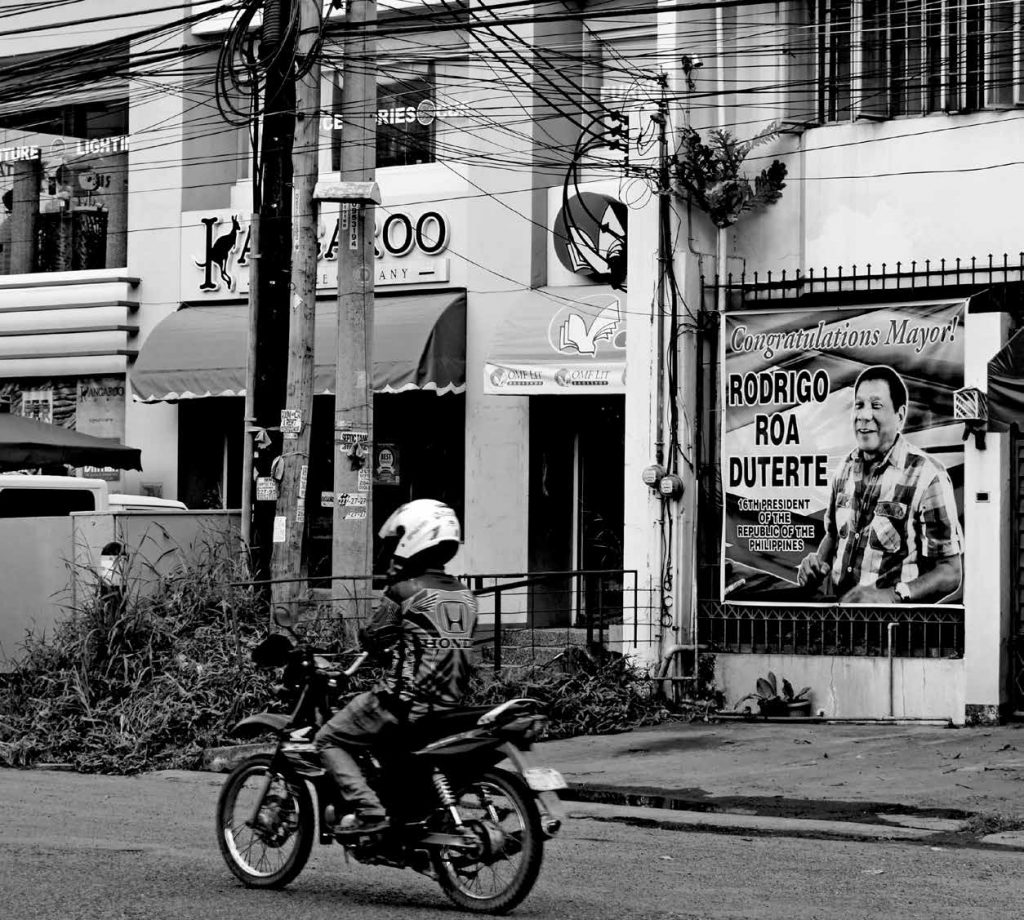 Cheering for Duterte
In Davao City, Duterte is extremely popular, even after two decades of killings. Everywhere posters and stickers are cheering for Duterte, on private houses, private cars. "He's a gangster, but he's our gangster is the general attitude," says 'Gerry' who used to be a great fan himself. Gerry came to Davao City from the provinces in 1988, the same year Duterte was elected mayor. "I lived in one of the poorest communities of Davao City, a slum area, and in my community the cleansing of drug users and peddlers meant an instant decline in petty crime. Petty crime is a big problem in daily life when you already have nothing," Gerry explains.
Gradually he came to realize that crime was not really diminishing in Davao City, it was transformed into "state crime". And the murders never ceased. Neither did the proliferation of drugs. One of Gerrys fellow tricycle drivers was recently apprehended on false charges of peddling – he did use drugs, but he did not sell, and he had turned himself in as a user to avoid being gunned down. Now he sits in a crammed mass prison cell. "It's strange isn't it?" Gerry says, "if Duterte style war on drugs is so effective, how come the prisons of Davao are crowded with users?"
The threat is real
Lately the killings may have begun to reach a "saturation point", as one protester phrased it during a rally at Mendiola, Manila, on International Human Rights Day December 10, 2016. Even the Maoist part of the left who have tactically chosen to support Duterte can no longer control the criticism within their own ranks. Militants from various human rights groups and organisations commonly associated with the Maoist party 'CPP-NPA' are now also taking the streets in protest against the war on drugs.
"Criticism of this war on drugs is growing, but not as fast as, and not a much as we want it to," says Rose Trajano, leader of the group Philippine Alliance of Human Rights Advocates (PAHRA). Probably more than those who speak out are actually dissenting, but speaking out comes with great costs.
"I was warned two months ago," Trajano says, "by sources within the police who had seen six names, including mine, of human rights defenders on a list of 'persons of interest'." Person of interest means potential target.
The threat is real; the Philippines has a sinister track record of killings of social activists, trade unionists, human rights lawyers, progressive clergy and anyone who pose an obstacle to the few families who possess most of the country's economic resources and thus political power.
Lucky to be in prison
On December 12, Irene Tabada, head of the Archdiocesan Commission on Prison Welfare invited me to a Christmas concert in Davao City Jail, Ma-a, with a group of Redemptorist student priests. In the jail, almost 3,000 inmates in slippers, shorts and yellow T-shirts are crammed together.
The concrete compound is constructed in various levels of cells with fences instead of walls, connected by narrow footpaths bounded with barbed wire. The roof of the cells consist of metal plates. The smallest "unit" is a 4 by 5 meter cell with 20 inmates. More than half of the inmates are here on drug related charges. Most are users, but many face charges for selling, which can mean life in prison.
During the concert of Christian and traditional Filipino Christmas songs the inmates sing along, cheer, sway and dance. Some stay motionless, no expression in their faces, eyes fixed on the stage. Besides the work, creating art and musical instruments and the discussion groups and bands inside the city jail, Irene Tabada tries to raise what she calls prison awareness outside. She wants to convey the message that there is hope after incarceration, and believes that it is not only the inmates who need rehabilitation but the surrounding 'free' society as well.
"People need to know about the life that goes on here, they need to know that this place exists. The inmates even consider themselves lucky. Many of them have already lost many friends in the streets."
It seems that everyone tunes in when one of the Redemptorists do a solo of the popular Filipino crooner carol of Jose Mari Chan, Christmas in Our Hearts.
Let's sing Merry Christmas and a happy holiday.
On the wall facing the parking lot behind the jail a tarpulin with the face of Duterte and the icon of a fist smashing through a durian reads the message in large letters: "Change is here @ Davao City Jail".
Gerry asked not to appear by his real name as he has received several threats to his life for labor organising in the informal sector of Davao City.
Irene Tabada died suddenly on Dec. 22, 2016, from a brain aneurysm. Her casket was brought to Davao City Jail for a wake on Dec. 26 so the inmates could say goodbye to her. R.I.P.