Many things are happening at the end of the world. 3,000 kilometers away from Santiago, the capital of Chile, lies a cold and isolated city called Punta Arenas in the region of Patagonia — an open door to endless national parks and the wonders of Antarctica. And soon, to its first-ever cannabis dispensary.
It will be run by Ernesto Sharp — a popular character in Punta Arenas and currently the brains behind Herbologia Urbana, a growshop and horticulture center that's been up and running since 2017. With his new dispensary, he intends to contribute to opening the minds of the inhabitants of Chilean Patagonia — and legally, the stage has been set for that to happen since 2005. That year, Chile passed Law 20.000 which decriminalises private and personal cannabis use (although it's illegal to consume it recreationally and in public.) There are no clear rules around how much weed you're allowed to have on you, and the distinction between trafficking and consumption is left to the discretion of the judge. To be clear, cultivating cannabis is still illegal — unless "one can justify that it is for exclusive personal consumption and use in the short term." Cue Ernesto's upcoming dispensary as well as the cannabis dispensaries that have popped up throughout Chile over the past few years under a particular model: they're non-profit associations which, from a legal standpoint, focus on improving the welfare of their participants, all of whom must have medical prescriptions supported and validated by an association of doctors in conjunction with civil society.
For Ernesto, opening a cannabis dispensary in the middle of Patagonia is significant from a cultural standpoint. He hopes it can help further destigmatise the plant. "People are really looking to be able to consume quietly and don't want to walk around looking for stuff on the streets," Ernesto explains. "It's very strange to sit with people who are constantly consuming alcohol, yet if you smoke or vaporise something in front of them, everyone will look at you like you're a weirdo even if you have your medical subscription." Luckily for Ernesto, the time is ripe for destigmatising the herb: a 2014 poll found that 50 percent of Chileans are for legalising cannabis while 45 percent are against. Chileans also consume more cannabis than any in any other Latin American country, and in 2015, the country's legislature proposed an amendment to Law 20.000. It would allow Chileans the right to possess up to ten grams of marijuana and grow up to six marijuana plants for personal use. (The bill passed in Congress in 2015, but must receive approval from the health commission and then Senate before it will take effect.)
But the dispensary is also a way for Ernesto to grow the learnings he's gathered from running Herbologia Urbana and jumpstart knowledge-sharing. "With Herbologia Urbana, I wanted to evolve the ordinary Grow Shop. The center makes it possible for peo- ple to learn, communicate, exchange experiences and grow," he explains. "In most of the normal Grow Shops, you go for a prod- uct, you have a salesman behind a counter and that's it. If you don't know what you want, then the seller doesn't really know what you'd like either, so you usually end up taking a lot things that don't work for you. At Herbologia Herbana, on the contrary, we teach you."
Naturally, the emphasis on teaching will extend to the dispensary. Ernesto hopes to put together a team of people educated in cannabis culture who can manage the store and dedicate full time to manage and run the dispensary. In this way, he can generate a circle that allows customers to consume while they're being informed so that they can build a base to share experiences and knowledge.
"Very good friends pointed their fingers at me. They told me that I shouldn't open doors to just anybody — that it would be too dangerous," Ernesto shares. "But if I had listened to them, I would not have anyone helping me in my store today, and it just wouldn't work. The boy who is learning and taking charge at this moment does it for the love of art, for the love of learning and for a common dream."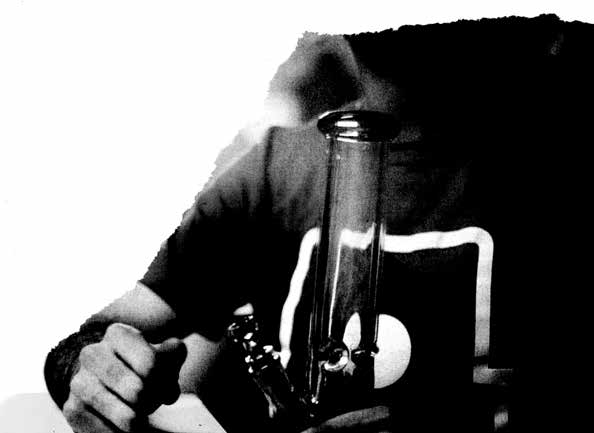 That dream is rooted in an impulse to grow culture alongside marijuana — something that's partly informed by a past that's quite far away from his current way of seeing life. "It's been two and a half years since I've had a drop of alcohol or a synthetic drug. Before, I used alcohol, cocaine, LSD, ecstasy, mushrooms, cactus, everything," Ernesto explains. "I didn't do that every day, but I consumed everything. I even started therapy for my drug use. But it lasted a short time because I gave up everything for cannabis and here I am: it's been years since I've touched alcohol, and that's what makes me really proud."
As for the future of cannabis in Chile, Ernesto is a firm believer that dispensaries can help change a culture that's been denounced for a long time. "There's a dividing line between the ones who look back and those who only look forward," says Ernesto. "So you have to stand on that line, look forward, and just think about what's coming. That's what I do every day. I hope that society evolves in pursuit of that and I hope that the dispensary does not feel like a liquor store or something, because it is not a liquor store where you buy alcohol and cigarettes for a fun night out."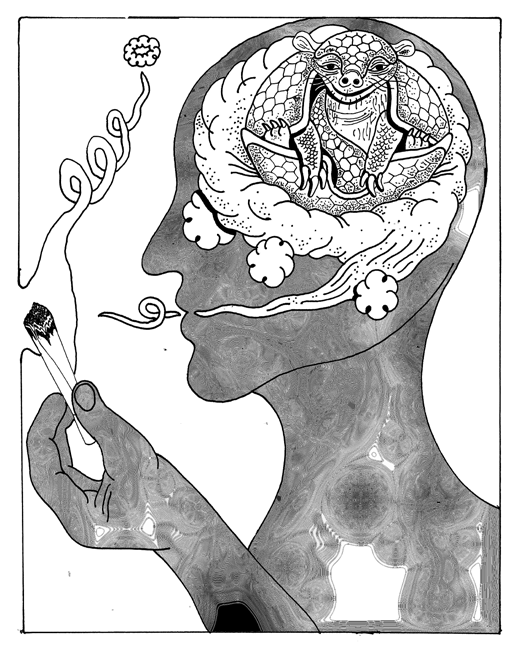 For Ernesto, the ambition around his dispensary is just the beginning. His longterm dream contemplates a much more advanced culture around cannabis and future regulation that would ensure total freedom around cannabis use.
"I hope to have a store where we can offer different qualities and varieties to people; to be able to pay my taxes from each sale I make rather than having to receive 'minimal donations established under the figures of non-profit associations created to help the community'," he says. "And I hope that I can give talks and teach people how to medicate with the products, not just dispense. You should be able to have a store where you sell your cannabis under a standard, like with all cultivations. I will always dream of a totally regulated and free activity."